Once you've decided to get a mortgage, a sound understanding of the requirements is crucial to a successful experience. Mortgage lenders look carefully at borrowers before they lend money, especially in tough financial times.
When deciding whether to approve your loan requests, lenders evaluate the four Cs:
Lenders look at your income, employment history, savings, and monthly debt payments, financial obligations, to make sure that you have the means to take on a mortgage comfortably. The primary tool they use for this analysis is a debt-to-income ratio. Simply put, the debt-to-income ratio is the sum of all monthly payment obligations an applicant has (including the proposed housing payment) divided by their gross monthly income.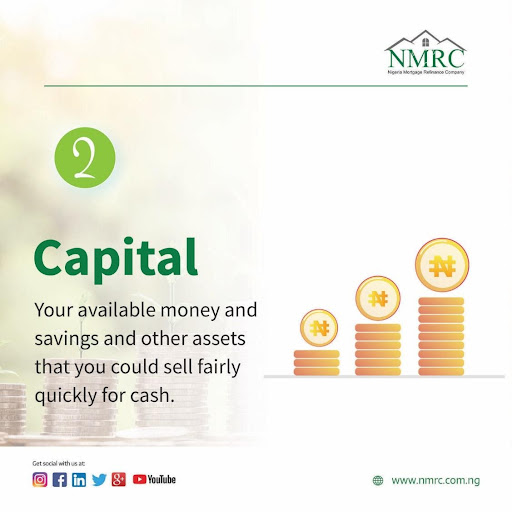 Capital accounts are any account with liquid assets that a borrower could access if need be.  Lenders consider your readily available money, savings plus investments, properties, and other assets that you could sell fairly quickly for cash. Having these reserves proves that you can manage your money and have funds, in addition to your income, to pay the mortgage.
Key questions that lenders consider: 
Does an applicant have a financial cushion to fall back on if their income is unexpectedly interrupted for a period of time? 

Has the applicant shown a pattern and habit of saving money over time?
Lenders also consider the value of the property itself to be sure that if a borrower fails to make their monthly payments, then they can take the house back and sell it in order to recoup the money that they loaned against it.
The value of a home will generally be determined by a professional appraiser's appraisal report. 
In reviewing the collateral for a property, lenders will review two basic questions:
a) Does the appraiser's determination of value for the subject property support the value that the applicant is buying it for?
b) What is the ratio of the loan amount to the value of the property (LTV)?
The loan-to-value (LTV) ratio is also an important consideration for the lender. The LTV measures the amount of money the lender is lending against the value of the collateral.
Credit is arguably the most important factor of the 4 C's. An applicant's credit score taken from the credit report is the simplest measure of their credit strength. 
Credit scores are heavily influenced by a person's payment history over the preceding 24 months. Other factors may include the proportion of revolving debt relative to the high credit limits, number of accounts, lack of credit depth, and many more.